AN : I thank Jasmine Rahul for suggesting me to write an article for RUMYA based on the movie "Dum lagake Haisha " I have just put the thread of big fat wedding from that only, rest of the story is my imagination which has no connection with the movie. 
The story starts from the arranged marriage of Rudra with Sowmya . At their wedding night Rudra was very much upset with his wife Sowmya as she was a fat girl.
Rudra : For what the hell I need to bear this luggage ?
Sowmya : Rudra what are you saying ?
Rudra : I am talking about you only , Moti Luggage.
Sowmya : Please Rudra , I have a name called Sowmya . I am your wife.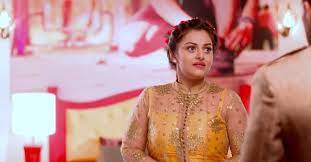 Rudra : Don't teach me anything , Moti. Before all my cousins, my friends you made me as a laughing stock and I can never forgive you for that.
Sowmya : Rudra what's my mistake ?
Rudra : You didn't get any other guy to trap in this garland ? Why me ? I never thought about in dream too that I would be marrying a big fat girl .
Sowmya ; If you was not interested in me you should have told that earlier before getting married.
Rudra : What to do ? In this house no one listens to me . All listens to  my dad and my dadi only. They decides and I have to obey them as that's my fate. But never think that I will give you the rights of a wife. In your dreams also it can never happen .
Rudra picks his pillows and blanket.
Sowmya : Rudra, what are you doing ?
Rudra ; I am going to sleep at the hall. Because I can't sleep with a Moti luggage. Do you get that ?
Sowmya : Rudra you are hurting me. You know how much it's painful when people keeps stories over body shaming and all. Your dad looked my skills , my behaviour , my family background and then only he bought your alliance to me. I didn't made any mistake.
Rudra : Oh Really !!!! That's the mistake as he never asks what his son wants . He took the decision and without asking my consent. Any ways why I should tell all these things to you ?
Rudra walks out from the room in anger carrying pillows and blanket. As he opens the door he sees his mom and dad -TejVi.
Tej : What's this Rudra ?
Rudra : Dad please, I have obeyed and married the girl whom you choose for me. But don't expect that I should be a good husband to her , it can never happen. I hate her a lot.
Jhanvi : Rudra, beta you are absolutely wrong. Please don't be so rude beta.
Rudra : Mom , even you also didn't asked my approval. How can I marry this big fat girl ?
Jhanvi : Rudra !!!! Being an educated person how can you keep a thought like these ? Beta looks doesn't matters for knowing a person and living with that person.
Rudra : But for me it certainly matters. I want a slim , zero size girl with me .
Dadi : Puthar that slim girl whom was your Ex break up with you after enagement , why you forgot everything ?
Rudra ; I have several times told that at this house no one should talk about Romi.
Tej ; Maa is right, Rudra. She cheated you , she was money minded only. When she find out that you didn't own any business company at your name she broke up with you telling that she can't marry a guy who has no bank balance at all. You still think it as a real love ?
Rudra : Whatever it be , I can't live with this Moti luggage.
Tej slaps Rudra
Tej : Give respect to your partner , she is your wife , Sowmya. If you can't love her then don't insult her like these.
Rudra's face went redish in anger . She stared Sowmya in anger.
Rudra : My dad slapped me because of you.
Sowmya : Rudra
Rudra : Don't say anything. Mom, Dadi, Dad- I am leaving this home .
Sowmya : Rudra , please
Tej : Go beta go. I won't stop you.
Rudra looked Jhanvi
Jhanvi : If you can't respect my bahu I won't spare you any more in this house.
Dadi : Jaa puthar , jaa
Rudra throws blanket, pillows in floor and starts packing his bag.
Sowmya : Dadi, Mom, dad please stop him. Where will he go at these night ?
Dadi : Jaane de sowmya puthar, When he will feel hungry he has to come here only.
Rudra wears the bag in his shoulder
Rudra : Not me even my shadow will never come to this home.
Dadi nods her head.
Rudra stares Sowmya
Rudra : Don't think that you have won, moti
Tej : Enough. You are leaving naa, then why are you wasting time in loose talks ? Just leave.
Rudra looked Jhanvi and Dadi. They didn't gave any shocking reaction or sad reaction .
Rudra : Iss ghar mein meri koyi keemat nahi .
Jhanvi : Tum kya abb Kyunki Saas bhi Kabhu Bahu Thi serial bana rahe ho ? Ek hee baat baar-baar kyun bole jaa rahe ho  ? Puri raat yahan khade hokar episode banayega yaa jaayega bhi ?
Tej and Dadi laughs
Rudra : Fine , I am leaving.
Rudra walks away.
Sowmya : He has left home literally.
Dadi : Sowmya , we are used with his dramebaazis . He will come soon. He is not able to control his hunger.
Jhanvi : Yeah Sowmya, Maa is right . You don't worry.
Tej : Jhanvi switch on the TV. Sowmya you likes cricket match ?
Sowmya : Of course, Dad.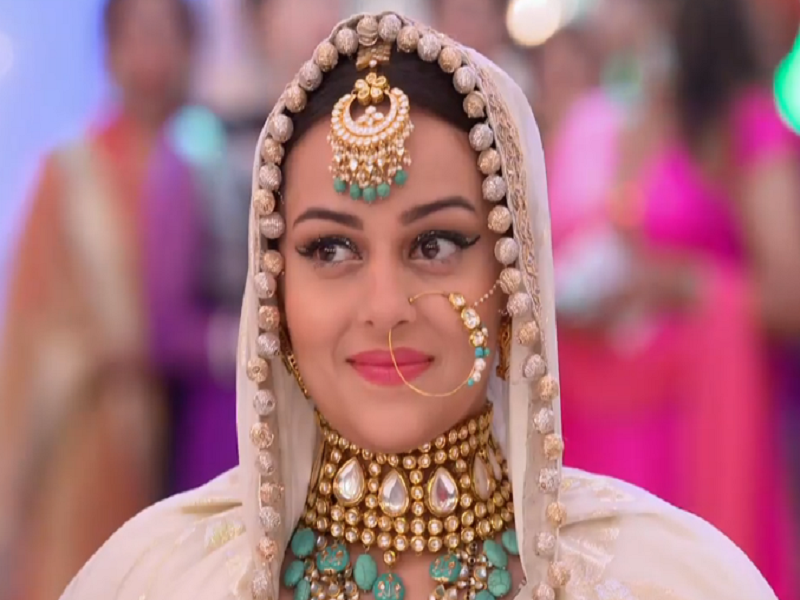 Dadi : Toh chalo, we all will watch TV and have some onion pakkodas with butter milk.
Tej : Wow Maa, you just said my heart's wish
Jhanvi brings pakkodas and butter milk. Three of them started watching TV.
On the other hand Rudra was roaming through the near by area of his home only. One of his neighbour made fun of him.
Neighbour : Rudra, you didn't went for first night ? Why are you wandering here ?
Rudra : Oh Chaachaji , Mind your own business . I know what to do .
Rudra felt he should move from there , he started walking through the public road. There he sees Romi with a guy .
Rudra rushed near them.
Romi : Sandy , I am your girl. Soon we will tie the knot
Rudra: Bro, Sandy check your bank accounts before getting married to this witch. She will squeeze your blood until you fullfil her demands for a luxurious life. She cheated me when she find that I am not a multi millionare , she will cheat you also . Be alert.
Sandy : Is it bro ? I gave my credit card to her and find that two lakhs have been withdrawed overnight. Now I realize her true intention.
Sandy : Romi give my card back.
Romi : But Sandy
Sandy signs for a taxi and makes Romi to sit at the taxi .
Romi : What ? I will go in this local taxi
Sandy : You cheated me a lot , at least  now I won't realize who you are then I will be a fool to be a puppet in your hands, so just leave.
Romi : Rudra, you thinks it's so funny ? Let me remind you that you have married a big fat girl . What about that ? Every days of your life will be funny only.
Rudra thinks about Sowmya and walks again in anger. After a while Sowmya was feeling much tensed that Rudra hadn't returned yet. Meanwhile Sowmya hears the calling ball. She rushed and opened the door.
She hugged Rudra, Rudra was surprised with this deed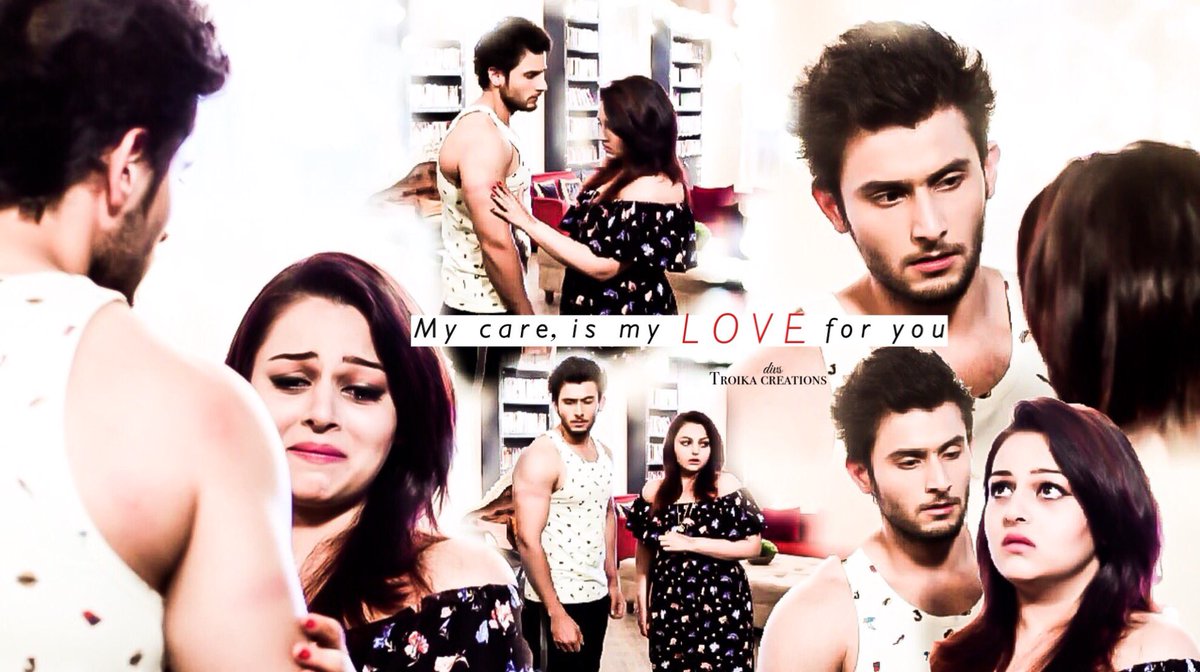 Sowmya : Why you left me Rudra ? You know how much I was worried for you ? You think it's so easy to go away from home like these so that problems will come to an end . I know you have certain dreams about your life partner. She have to be a slim , fit, charming girl and not a fat girl like me. Hey naa ? Just one week, Once my dad completes his business trip and comes back India I will go back to my home. Till that time you have to bear me. I swear I will never demand any rights of wife from you. I never dream about a so called prince charming , what I expected was a caring family post marriage and an understanding lovable husband only. But seems god has heard my request's half only. Any ways dadi told me that you won't able to suffer hunger long time. Wash your hands and eat some thing.
Rudra looks Sowmya's teary eyes , he looked her again silently.
Tu hoga zara paagal tu ne mujhko kyun chuna ?
Kaise tu ne ankaha, tu ne ankaha sab suna ?
Tu din saa hein yaa raat aa jaan donon
Mil jaaye shaamon kee tarah 
Yeh moh -moh ke dhaage teri ungliyon se jaa uljhe ….plays
Meanwhile Sowmya serves food .
Rudra : Dad, Mom and Dadi ?
Sowmya : They all have slept now. We watched cricket match , but it was not interesting without you, Rudra. Mom switched off TV and all went their rooms .
Rudra : You didn't slept ?
Sowmya wiped her tears and looks Rudra
Sowmya : Now I can sleep with a relief in heart as you have came back .
Meanwhile TejVi, Dadi who were watching them from by hiding in a corner smiled whole heatredly.
Dadi : Tej Puthar, kya lagta hein tumhein ? Rudra will accept Sowmya ?
Tej : Let's wait and see.
Sowmya sees them and smiles
Sowmya : I have seen you all . You all can come infront of us
Rudra : Aap log soye nahi abb tak ?
Jhanvi : Rudy I lost my necklace. We were searching that only
Tej : Yeah , it's a costly one
Rudra : Raat ko aap necklace pehanke soti kyaa ?
Dadi : Oh Puthar, we agree we were seeing you both from hiding at that corner.
Sowmya : But why ?
Tej : You both are newly wed couple. So we don't want to disturb you .
Rudra : Aap log so jaayiye. Humein bhi sona hein.
Jhanvi ; Okay
Rudra and Sowmya goes to the room.
Rudra ; I will sleep at the sofa
Sowmya : But Rudra
Rudra : I hope after a week you will leave me, this family forever . It's late night, you must be tired .So sleep well. Good night
Rudra lie down at sofa and covered himself with blanket.
Sowmya : Rudra, rudra… Seems Rudra will never talk to me whole heartedly.
Sowmya lie down at bed and looks Rudra with teary eyes.
The post DAWN OF LOVE BEYOND OF ALL SIZES AND SHAPES : RUMYA – Two SHOTS-Shot One appeared first on Telly Updates.