Urvashi Rautela Cannes Look: Bollywood actress Urvashi Rautela remains a part of the headlines these days. He recently made his debut at the Cannes Film Festival. Urvashi made everyone crazy with her look on the red carpet. Urvashi recently reached the red carpet wearing a crocodile necklace. This time she has become a part of headlines by applying blue lipstick. On the third day of the Cannes Film Festival, Urvashi arrived wearing a blue and cream gown. She has complemented this look with blue lipstick. After which she is being trolled badly on social media.
Urvashi Rautela has shared pictures of her Cannes look on social media. These photos are becoming very viral. Seeing these photos, some people are praising him while some are linking him to Rishabh Pant after seeing this look.


Urvashi Rautela trolled
Users are commenting a lot on Urvashi's post. One user wrote- 'Doraemon's sister is looking.' While the other wrote – 'What have you done in the affair of Rishabh Pant.' At the same time, one wrote – 'In which line has she come, didi.' One user wrote- 'Hey Didi's but it came out… She has become Papa's angel.'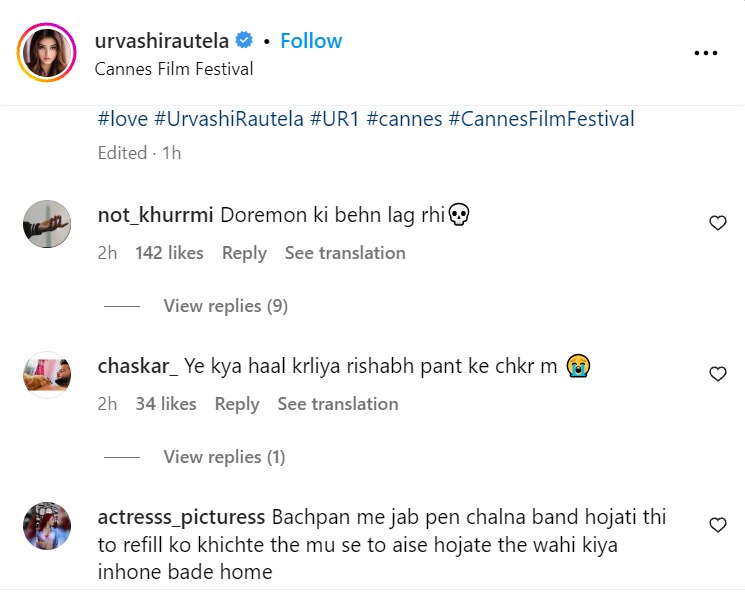 Aishwarya understood Urvashi
When Urvashi Rautela walked on the red carpet of Cannes, she was mistaken for Aishwarya by the French media. Seeing Urvashi on the red carpet, he started shouting Aishwarya-Aishwarya. This video is becoming very viral on social media. The special thing is that Urvashi did not get irritated after hearing the name Aishwarya, instead she turned and passed a smile to the paparazzi.
Talking about Cannes Film Festival, so far this year many Bollywood actresses have walked on the red carpet. Sara Ali Khan, Mrinal Thakur, Esha Gupta, Aishwarya Rai and Sapna Chowdhary are included in this list.
read this also: Reema Lagoo played the role of Salman Khan's mother-in-law in this movie, the film on OTT made a big record
For More Related News Visit Entertainment