New Delhi. You must have seen the pair of 'Jai-Veeru' in Sholay. The stories of the friendship of both of them in the film are famous till date. But do you know about the real 'Jai-Veeru' of Bollywood. This pair is of Feroz Khan and Vinod Khanna. You must have heard about the friendship between Feroz Khan and Vinod Khanna, who dominated the big screen in the 70s, but do you know the story of the scuffle between the two, which took place during a party and then That happened which neither Feroze Khan nor Vinod Khanna ever thought about.
Firoz Khan and Vinod Khanna were those friends, who always stood in happiness and sorrow. But once, under the influence of alcohol, Feroz Khan did an act which Vinod did not like at all and then the actor punched his friend in the face. Would you believe that after this punch, Feroze Khan got a profit of 110 crores and the friendship of both of them got more confirmed from here. Let's know that unheard story of Bollywood.
Many people attended the party
People who know the streets of B-town closely know that Feroze Khan was very fond of parties. Often he used to do get-to-gather with people and used to hold gatherings at home. According to media reports, once Firoz Khan organized a party, in which he invited many people from Bollywood. He also called Vinod Khanna in the party.
When Vinod Khanna reached Feroze Khan's party with his first wife
There was a friend's party and everyone was going to attend the party with their wives, so Vinod Khanna also joined the party with his first wife Gitanjali. There was arrangement for dance along with food and drink in the party. Everyone was dancing. Then Firoz Khan held Gitanjali's hand and started dancing. However, Gitanjali was refusing them and was not comfortable to dance, as Firoz Khan was intoxicated.
The pairing of Feroz Khan and Vinod Khanna was well-liked in the films 'Dayavan' and 'Qurbani'.
Why did Vinod punch Feroze Khan?
When Vinod Khanna saw his wife Gitanjali uncomfortable, he tried to stop Firoz Khan, but the actor was not ready to listen. That's why Vinod got angry and he hit a strong punch on his face and left the party.
Got beaten and apologized the next day
The very next day of the party, Feroze Khan realized his mistake and apologized to Vinod Khanna and his wife Gitanjali and said, 'Bahut zordar mukka maara tha yaar ki pura jabda hil gaya'. But whatever it is, I have found my hero.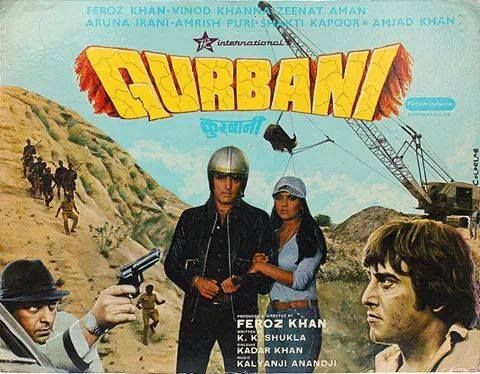 Amitabh Bachchan got this film before Vinod Khanna.
Vinod's entry by re-placing Amitabh
Firoz Khan was making the film 'Qurbani' in those days. In this film, he needed such an angry young man. He had earlier cast Amitabh Bachchan for the film, but later he had replaced Amitabh. Because the actor did not have dates for six months. Then Firoz Khan chose Dost Vinod and the film rocked the box office.
Bumper earnings from the film
In the 1980s, when Mercedes was not seen on the roads of the country, he had destroyed a Mercedes in an action scene in the film 'Qurbani'. Vinod Khanna had become Osho's by the time the film was released and it rained huge fortunes at the box office. The film ran houseful for three months in Mumbai alone. The film earned a bumper and earned so much that a whole squad was deployed separately to count the notes in Feroze Khan's farm house in Bangalore. The film had earned Rs 110 crore in that period.
,
Tags: Entertainment Special, Vinod Khanna
FIRST PUBLISHED : May 25, 2023, 04:30 PM
For More Related News Visit Entertainment