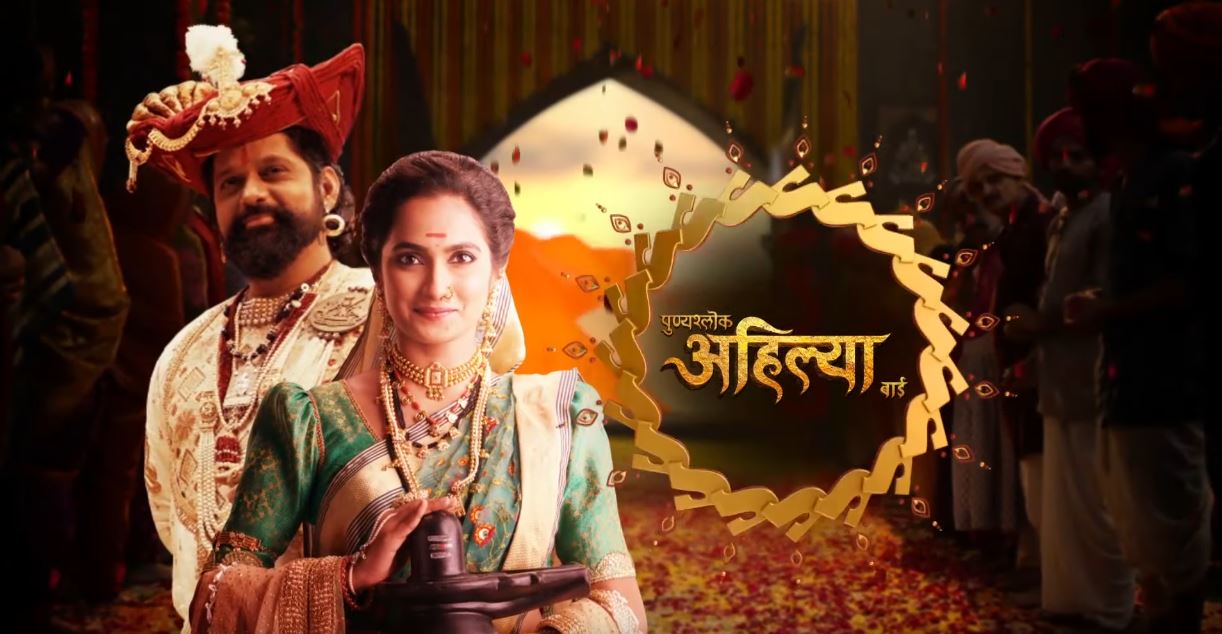 Punyashlok Ahilya Bai 13th April 2022 Written Episode, Written Update on TellyUpdates.com
The Episode starts with Ahilya signing no to Malhar. Its morning, everyone gathers in the hall. Gawde asks what does Malhar want to tell us. Gautama says he said he has to talk about the marriage. Khanderao says I can't see Ahilya, where is she. Malhar comes and says she is in the lawn, she is preparing for Gudi padwa puja. He sits and talks to Gawde. He says I got to know that you had come to pray to Kuldevi and stopped here to see a festive, then the alliance got fixed, I can't decide that does injustice with anyone, so I have taken a decision. Ahilya is outside doing the puja preparations. She recalls Malhar asking why did you stop me from talking to Khanderao. She says I don't want anyone to get under pressure. He says you think he is happy with this alliance, I can't believe this. She says he didn't refuse, maybe… He asks why did you stop me, because Parvati will get defamed, you are thinking of that. She cries. He reminds her the childhood moment. He says you were a girl, but Gautama did this mistake intentionally. She says no, Gautama is the queen, I can't disrespect her, let her do what she wants. They cry. FB ends.
Malhar gets up and recalls Ahilya's journey in the palace. He cries and says I announce Khanderao's second marriage. Dwarka smiles. Parvati takes his blessings. Malhar says you got an entry in the house because of Ahilya, be thankful to her, be loyal to her. everyone goes out. Khanderao and Ahilya do the aarti together. Ahilya prays.
The garland falls over Ahilya's neck. Everyone looks at Ahilya. She thinks is this your blessing, or any hint of the coming troubles. Its morning, Malhar checks the accounts. He says Ahilya got these accounts from Jagirdar, he has done wrong, she has done the right thing. She says I didn't wish him to die. He says I know, it can't be your aim to kill anyone. Malhar says Gangoba, I have a complain with you and Khanderao, why didn't you take an action when Ahilya got the matter here. Gangoba gets quiet. Tukoji says Khanderao wasn't in favor of the investigations, until we got a proof… Malhar says Ahilya had got Shevanti, we could have paid attention to this case, I m really disappointed by Khanderao's carelessness, Jagirdar would have looted the people, if that soldier didn't attack on time, then Ahilya would have lost her life. Malhar says Khanderao has done wrong, its unacceptable, he has to give an answer.
Gunu ji sees the workers. He finds someone hiding behind the bushes. He worries and says we can't lay the explosives here. He goes and sees Dhana ji. He asks what are you doing here, I could have killed you. Dhana ji says it didn't happen, Malhar has made me away from my son, now he should also get away from his son. Gunu ji says yes, it will happen, all the happiness will turn into mourning. Dhana ji says I don't know how will I wait till tomorrow. Ahilya gets dizzy. Malhar holds her and makes her sit. He asks what happened, are you not fine. Gangoba says I will send water and call the Rajya vaid. Ahilya says no, it happens sometimes. Malhar says its not a common thing to get fainting, say something.

Precap:
Khanderao and Parvati are getting married. Ahilya faints down. Everyone turns and sees her.
Update Credit to: Amena
The post Punyashlok Ahilya Bai 13th April 2022 Written Episode Update: Ahilya supports Khanderao's remarriage appeared first on Telly Updates.