Hii…. I'm back with next part of my story….. 
Let's start…. 
Ayaz: Now only last performance is left….. The most awaited performance….
So welcome them on stage with great applause…..
Dhruv and pooja came on stage….their performance start…..
Song plays in background…..
Ye aa ya-ya ya-ya…
 Dil ki maange thodi thi kam
Har duaa bhi thodi maddham
Tune kaandhe pe sar jhukaaya jab
Jaise dargah pe baandhe dhaage tab
Bina maange hi mill gaya hai sab
Meherbaan hua hua
Meherbaan hua hua
Meherbaan.. hua
Meherbaan hua Rab
Meherbaan.. hua
Meherbaan hua Rab
Kabir and pooja imagine dancing together……
Duaa rang rangiya yun malang laal laal rang
Rooh ki patang baandhi tere sang
Haathon mein le leti hoon
Ke taqdeerein apni saari padh loon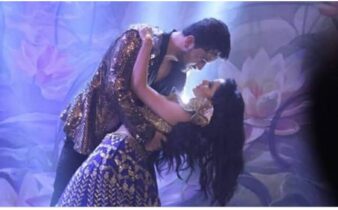 Ayaz come to Kabir and his thoughts break……
Ayaz: Come out of your imagination Kabir….. See how cute they both are looking together……
Kabir looks at them and his eyes became teary.. ..
Aankhon mein tere chhupte
Armaan main dhoondhta hoon
Bas tu soche, aur poore main kar doon
Abhi abhi toh hum adhoore thhe
Poore ho gaye tere roobaroo
Oo.. ye bhi deekhe na
Kahaan main khatam, kahaan tu shuru
Aankhein teri (aankhein teri)
Girti hain jab (girti hain jab)
Ab to neendein aati hain tab
Humko lagta hai kuch dino se ab
Tu ibaadat hai, tu hi hai mazhab
Bewajah kaise, kyu, kahaan aur kab
Ayaz: Wow….. How sweet….. They both are made for each other….. Only dhruv bhai deserve pooja…..
Kabir: keep quite ayaz…. Just keep quite….
Ayaz: Why Kabir? Is I am saying something wrong?….. They are really looking very lovely couple together…… Aww how romantic they're…..
Mar ke tum pe, hum saans lete hain
Tu jo sun le toh sunta ye Rab hai..
Mili thi meri teri haan me haan
Sach hai yahi tujh sa kahin
Meri raahein aayein tujh tak
Iss janam se har janam tak
Waqt ko rokein aa zara sa ab
Usko samjha dein ishq ka matlab
Chhod ke zidd ye maan lega ab
Kabir looks at them and seeing there closeness….. In anger he throw a glass…. Pooja's imagination broke….. And she see Kabir……. small pieces of glass pricks in kabir's hand and his hand start bleeding…. Pooja noticed it….. Due to loud music…. Only pooja noticed the breaking sound…..
There performance end…..
Kabir goes towards his room Pooja also go behind him….. While going she colloid with ayaz….
Ayaz: Are you going behind Kabir?
Pooja: No… Why I'll go behind him….. I don't care whether he live or die….
Ayaz: ohh…. Seriously?…
Pooja: Yes….
Suman calls Pooja…..
Pooja: see…. Aunty jii is calling me….. Plz take care of Kabir…. His hand is bleeding…. He goes towards his room….. Plz apply medicine on his hand…
Ayaz smiles and says: Ok….
Ayaz go behind kabir….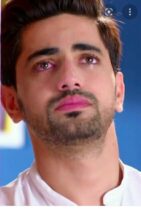 Ayaz: Kabir….
Kabir: Plz yrr don't start again…..
Ayaz:
      " Yeh pyar ki kesi ajab se kahani hai   Sir pe junoon aur hath pr nishan hai"
Kabir: What?…
Ayaz: look at your hand… It's bleeding…..
Kabir looks at his hand….
Ayaz: you're that much lost in Pooja that you doesn't even realize that you're hurt….
Kabir: Just leave me alone pls….
Ayaz: Where is first aid box?….
Kabir doesn't rply…..
Ayaz open some drawers and find pooja's photo…..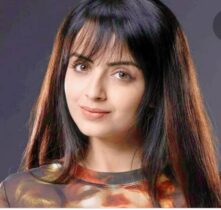 Ayaz: Aww….. How cute she is looking ….Her smile is missing now a days…..because of you…you know what…… You both are amazing… Pooja send me here to take care of you and you're shedding tears for her….
Kabir: From where you find it?…. Kabir snatch pooja's photo from ayaz's hand….
Ayaz: I found first aid box also…. Show me your hand….
Ayaz first aid Kabir's hand…..
Ayaz: plz…. Kabir… Still time is left…. Once marriage happen nothing can't be change….. Don't you love Pooja?…
Kabir: Yes…. I don't love her…. That's what you want to listen…. Happy now?…..
Ayaz: Kabir..
Kabir: you know everything….. You know that how much I love Pooja….. But still you're asking me this stupid question…. I love Pooja but I also love my brother…..
Pooja listen everything and leave from there…And thinks…. When he can do this for his brother I can also do this for him….. As I love him very much…. I can die for him…. I'll do it…. If he feels happy in his brother's happiness…. I can also always be happy in his happiness…..that's doesn't matter how much it hurts me… The only thing matter he wants me to do this…. That's it…. I will do it for sure….. I won't stop till the time Kabir won't stop me….
Kabir: I am doing this just for my brother….. You Know that….
Dhruv: What are you doing for me?….
Ayaz and kabir get shock listening dhruv's voice…..
Kabir: Bhai…… I….. I… I…
Ayaz: Bhai kabir's sacri……
Kabir interrupted him….
Kabir: Don't tell ayaz…. It is a surprise…. Bhai we are planning a surprise for you and Pooja….
Dhruv: Okk…..what happened to your hand….
Kabir: Nothing bhai…. Just a small cut….
Dhruv: Take care…. I came to tell you that sharma's leave……..now I'm going to my room…. I'm very tired…. Good night….
Dhruv leaves….
Ayaz: Why you stop me from telling the truth… You don't want to tell and you don't let me tell…. What you want Kabir?…
Kabir: You won't tell anyone pls….
Ayaz: But….
Kabir: can't you do that for me?….
Ayaz: Ok…
Dhruv's room….
Dhruv is sitting near his bed with a photo in his hand….
Dhruv: You know what… Today I see you in Pooja…. From the day I met Pooja… I'm finding you inside her…. Mom wants me to move on…. But how can I?…. You know right I love you…. No you don't know…. I want to tell you everything….. But I can't…. I hope you are happy…. I want you to always stay happy….. You know what…. Today while dancing with Pooja I fell like I went back to my college days…..I hope we never met… Because I won't be able to tolerate if you doesn't remember me…. And how can you remember me….. We never talk much…. You was my crush…. And I don't know when you became that much important in my life….. That  still I talk to your photo…
Dhruv sleeps while talking to photo….
Hope you guys like it…. Tell your reviews in comment…. Sorry for any grammatical mistake…. I want a suggestion…. I'm thinking about adding some poetry lines…. Not really poetry… Some lines written by me… I like to write Poetries also…. I add some lines in ayaz's  dialogue…. Plz tell me in comment section… I'll add or not?… Bye….

…. 
The post Sacrifice of love – A Jabir FF – Part 17 appeared first on Telly Updates.