hello readers..here is the second one shot of my ff. This one shot is based on AnuPre. Thank you JasmineRahul for suggesting this story for anupre..but i made little changes. Hope you all enjoy it.. please do comment and give your views

.
A small girl is seen crying near a dead body..
Girl: mumma..mumma..why are you not waking up? Please get up..
A lady comes and hugs her and comforts her and she is said to be mohini (girl's mother's friend)
Mohini:prerna beta.. calm down. Iam also like your mumma..so if you want anything then ask me..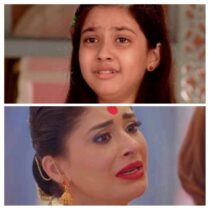 Prerna:then ask my mother to get up.. that's only i want Mohini maa..
Mohini gets angry seeing the girl's sorrow and her friend's dead body..
Mohini in mind:it's all because of you mr. Shastri. You always tortured my friend and harassed her..you failed to be a good husband and father. Wait and watch..i will make you arrested as you are the reason for my friend's suicide.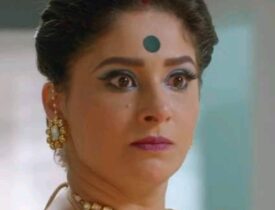 Mohini somehow puts prerna to sleep in her lap and carasses her…
Mohini: you are my future bahu beta. I will get you and anurag married as per your mum's and my wish. Till that where will you live..i also don't have enough money to take care of you..
Suddenly a lady comes there along with her husband and a kid..
Lady:miss..mohini..if you permit we will keep prerna in our house.
Mohini:who are you?
Lady:iam akshara and he is my husband naitik and this is my daughter naira. Naira is prerna's close friend in school and we have talked to prerna's mother veena too. We heared about Veena's death and we rushed here..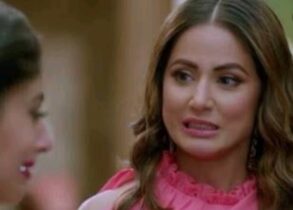 Mohini:she is like my daughter and the only problem is money. If we had sufficient money then we wouldn't have worried for her home as we would have kept in our home atself but as we don't have enough money..
Akshara: don't worry about it. I also consider prerna as my daughter..so give her responsibility to me..i will take care of her well. I will send her to your house also regularly..
Mohini: that's so nice of you. But please make sure that you keep prerna always happy..
Akshara:i promise for it..


Mohini handed over prerna's responsibility to akshara and the days passed and aksara and Naitik treated her well like their own child and prerna too started to bond with them..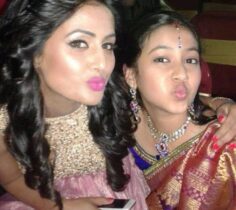 Even naira considered her as her sister and they played and spent time together..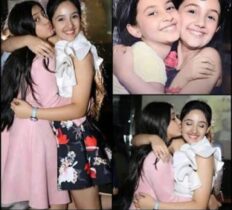 Some years later..
Basu's have become rich by anurag's hardwork..
Prerna and naira are grown up into beautiful ladies and they both gets ready and comes before akshara..
Prerna and naira:maa..bless us..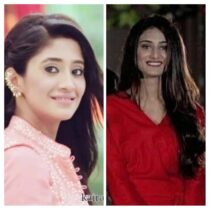 Akshara smiles and blessings them both happily..
Akshara: a suprise for you both..tonight Naveen chachu is coming here.
Prerna and naira gets happy..
Prerna: really? He went to abroad years back and is he returning finally?
Akshara:yes beta.. hereafter he will stay here with us.
Naira:that's so nice. I missed him a lot and finally he is getting back..
They share their happiness and..
Prerna:maa..iam leaving for Mohini maa's house now..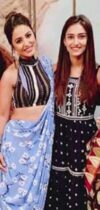 Akshara:yes..tell them that i wished them.
Prerna:sure maa..bye maa..bye naira..
Prerna goes to basu house and hugs mohini..
Prerna:good morning Mohini maa..
Mohini:good morning beta. As usual you came here early morning..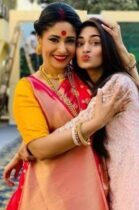 Prerna:yes..how can i not meet my mohini maa?
Mohini: only you came to meet me alone? Don't you want to meet moloy uncle and anurag..your friend?
Prerna smiles..
Prerna:no..i came for them also..but you are the first preference always..
Mohini smiles and kisses her forehead..
Then anurag comes down getting ready and he smiles seeing prerna..
Anurag in mind:waah..how beautiful she is! You are my heart prerna..i love you so much. I will propose you soon..
Anurag walks to prerna..
Anurag:hi prerna..
Prerna:hi..so mr. Basu got ready for office?
Anurag:yes.. what to do? If our life haven't got this problem called money..we would have enjoyed like in our childhood without going jobs..but what to do..
Prerna: haha..life won't be interesting if only happiness surrounds you. So go and work nicely..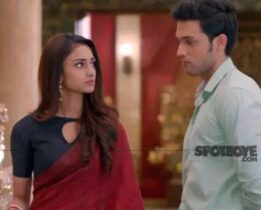 Anurag: it won't be interesting too if you don't spend time with me..
Prerna makes a face..
Prerna:am i your life?
Anurag: ofcourse..you are my..lo..i mean my soulmate friend. So..
Prerna:acha..then i will come at evening..we will spend time.
Anurag:lier..this is everyday's dialogue from you but when i ask you at evening..you reply that you are spending time with your sister naira..so can't come..
Prerna:acha..baba..iam sorry. I promise i will come today..now okay?
Anurag smiled..
Anurag : okay.. but my okay will satisfied only at evening after your arrival..
Prerna:sure..i will make your okay satisfied..now go to office without wasting time..
Anurag smiles and goes and he drives the car happily..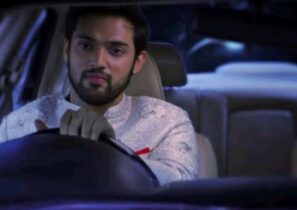 Anurag in mind: finally i got a time to spend time with her. Soon i will propose you my dear love..
Prerna spends time with Mohini and moloy happily for sometime..
Prerna:mohini maa..moloy papa.. iam going back home now.Tonight Naveen chachu is coming..
Mohini: that's good news. Go beta..
Prerna goes back home and at evening she spends time with Anurag at a park..
Anurag just admires her all through their time..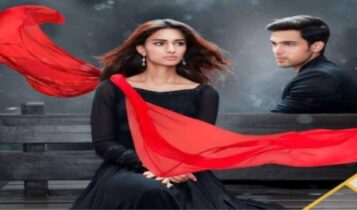 Anurag in mind: i can't control my feelings anymore prerna..i will surely propose you soon..
Prerna notices his glance and..
Prerna:why are you staring me like this?
Anurag: nothing..you look bad that's why.
Prerna:what? How dare you..

She beats him and anurag laughs..
Anurag:hey..i just joked..
They both spend quality time together..
Prerna:now Time is 7:30 pm..my chachu will be coming in an hour..so can you drop me home now?
Anurag:acha..but first promise me that you will meet me like this tomorrow also..
Prerna:why do you need promise for this?
Anurag: because i can't believe your talks as you fool me always..today you came as you promised me so promise me for tomorrow also..so that you will come for sure..
Prerna laughs and promises him..
Prerna:acha.. promise i will come. Now come lets go..
Anurag drops her in her house and goes while prerna goes in and gets suprised seeing Naveen ..
Prerna:Naveen chachu?
Naveen looks her and gets confused..
Naveen:who..who is this girl naitik?
Naitik: arrey..it's prerna..she has grown up.
Naveen gets suprised and he immediately goes and hugs her..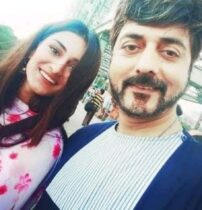 Naveen:ohh..so you are prerna..you have grown up like that.. that even i couldn't identify you.
Prerna smiles..
Prerna:but you look same young chachu…
Naveen:thank you..come i brought you..you favourite drinks. Come and enjoy..
Naveen gives her favourite drinks and she enjoys drinking it..
Akshara and Naitik smiles seeing prerna happy..
Akshara:i feel happy seeing prerna happy. Though she is not born to us but she became our daughter..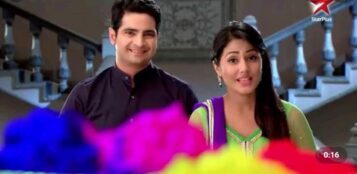 Naitik:yes..we are lucky to get her. And mostly naira is too lucky that she got a sister..
Akshara:yes..
The days passes and one day naitik comes home happily..
Naitik:akshara..naira..prerna..
They threw rush to naitik..
Akshara:naitik..why are you shouting like this?
Naitik:arrey..we got free tickets to watch singer Dev's concert..
Naira and prerna gets happy hearing it..
Naira:dad..are you telling truth? Did we get tickets to watch singer Dev's live concert?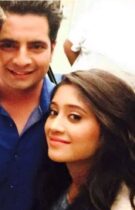 Naitik shows tickets to naira and..
Naitik:see..i bought the tickets too. Evening we four will go for Dev's live concert..
Prerna and naira gets happy and they hug each other..
Prerna:wow..naira..our dream is coming true to see Dev's concert Live..
Naira:yes..
Continued on next page…
The post True love.. ~ An AnuPre OS appeared first on Telly Updates.