Hey Siya Kapoor, Thank you so much dear

Thank you so much Kavya

Hey Gg Thank you so much

Hey tytyYtyt ..very happy that you loved it 
Hey Gotta goo Thank you so much 
Sorry yaar I know only the names mentioned in the comments..I don't know your names..so couldn't mention it sorry
Hey Jasmine..you will know Simmi's motive soon and happy that you like Kaira scene

..last two shots of Arya fs will be uploaded very soon
Hey Shreya…yes yaar exams really suck..thank you so much dear

With all said lets proceed  further 
Recap: With all problems sorted Kaira spend some alone time. Simmi is revealed to be the boss of Kevin and Sohail. Kartik uninvites Ridhimma, Urvashi and Rhea for the housewarming ceremony 
Episode 87 : Blockbuster Release
Evening before movie release 
Kartik gets off the car at the producer's office. He picks his mobile and calls Naira
Kartik: Jaaneman 
Naira: Kartik how is it going?
Kartik: I have invited almost everyone in our list. Shivaay too helped me. How is chachu?
Naira: Adi bhai and Naksh bhai are at the hospital. Doctors said that he can be discharged by Saturday 
Kartik: Great then he can attend our housewarming ceremony 
Naira: Haan Kartik Im so excited 
Kartik: In that excitement dont forget your health. We are in the middle of your 7th month. 
Naira: I know I know dont worry 
Kartik: Naira I will be late as I have some promotion works left, you know na the sudden release date has made it hectic, I feel as if no promotion has been done 
Naira: You are running for the past 2 days Kartik , enough promotions were already made before the premier na…
Kartik: Haan Naira if not for Rhea and Urvashi the movie would have released long ago…
Naira: Tum tension mat ho…everything will be alright 
Kartik: Hope so..I have an interview in the producer's officer with sir and the mainstream media people..you have dinner and sleep. I love you
Naira: I love you too 
He disconnects the call and walks inside to see the media already waiting for him
Associate: Sir ready?
Kartik: Ill just freshen up yaar 2 minutes 
2 minutes later Kartik gears up for the interview 
Interviewer: Congratulations on your 5th release sir
Kartik: Thank you so much
Interviewer: In one and a half years since you signed your first project a lot of changes have occurred, you have given 4 hit movies, won the debut actor male award , gained limelight for things other than acting in the professional front..how does it feel?
Kartik leaves a deep sigh and : Actually it feels surreal….its been like a dream
Interviewer: It will be because not all fresh actors experience it
Kartik: Thats true sir. As you said I gained limelight for things other than acting..like my chemistry with my wife, my accident and paralysis and now Urvashi
Interviewer: With Urvashi..we would like to ask you something 
Kartik: Go ahead
Interviewer: When you got the best  debut male award you mentioned someone who ditched you and with the current happenings can we take that it was for Urvashi?
Kartik: I don't want to hide it anymore..yes it was for Urvashi. 
Interviewer: You didn't say it earlier or not even mentioned it in any interview 
Kartik: Thats because she was in a good place in the industry and I didn't want to spoil her image. But now with herself blurting out the truth in front of the cameras there is no need to hide it
Interviewer: Mr. Kartik can we know what happened between you both in the past?
Kartik: Woh…actually I have come over it..I don't want to relive those memories again. Sorry
Interviewer: Its okay sir, but failing in love did good to you I guess…you and your wife share an awesome bond…well one last question related to Urvashi…a picture of your intimate moment was released in the social media..which created thoughts that you and your wife are drifting apart and you are cheating her with Urvashi..
Kartik: Well people knew the truth very soon…I guess
The interviewer nods and : Yeah sir…so who is the person in the hospital 
Producer sees that Kartik is getting awkward with many personal questions popping up
Producer: Sir…the movie is releasing tomorrow..lets talk about that
Interviewer: Sure sir..so Kartik sir its your 5th movie..but this movie faced the most controversies …is it like aapki success pe kisi ka nazar lag gaya or is it like a bad omen?
Producer: I would like to answer it..shall I
Interviewer: Why not sir?
The producer gently pats Kartik  
Producer: Purshottam was a wolf in sheep disguise. People like him are a shame to this industry. Its actually a good omen to get rid of devils
Kartik smiles at the producer who gives him a comforting press on his hand
Interviewer: Well said sir..so Kartik currently no new announcements have been made that too after your last film won many awards in film festivals ..any reason for it?
Kartik: Well actually I got this project and was very excited to work on it..moreover the shoot was happening in my home town and I had some quality time with my family especially my pregnant wife and I didn't want to load many projects and keep shuffling here and there during her pregnancy and wanted to do one project at a time
Interviewer: Will this be a permanent resolution? Dont you want to do many projects….
Kartik: Well…if you see from the beginning I did one project at a time…Im not a superstar to sign multiple projects at the same time..Im just a growing star….when a director gives a movie to me the producer also invests money based on the trust he has on me..I feel that concentrating on one project at a time helps me do justice to the project
Interviewer: Well I don't agree with the statement that you are not a superstar..fans love you
Kartik: Thats the biggest blessing..in that way too doing one project helps me..I am able to do justice to the expectation of the people too
Interviewer: So are you picky in your projects?
Kartik: Well I am….I struggled for a chance in this industry and when I got it I cant be fooling around with xyz projects….I am picky as you said 
Interviewer: Well whats the next plan..any new project 
Kartik: I cant officially confirm anything yet…but in the recent past I didn't sign anything new as I wanted to be with my wife who needs me now
Interviewer: Now what do you want to tell the audience about this movie?
Kartik: Finally you are here to the most important matter, well as far as I can say please watch it i the theatres near you and we promise that you wont regret watching it
Interviewer: What kind of role are you playing in it?
Kartik: Well this role is of a  very new genre when compared to my previous movies..guess people will like it
Interviewer: Your first movie was a romantic one, then a tragedy again romantic and again tragedy…what should people expect from this
Kartik: People can expect something other than romance and tragedy here. Other things you will know it tomorrow in the theatres
Interviewer: Final question…when are you expecting your child?
Kartik chuckles
and : Well 7.5 months of pregnancy have passed…so you know it
As the interview winds up Kartik gets up to leave. The producer walks to him
Producer: You handled them well Kartik…and tomorrow morning come with your family to the Imperial theatre, I have made special arrangements for the cast and crew there
Kartik: Sir…everyone from my family is excited to watch the FDFS in theatre here in Mumbai as it is the their first time to be here when movie is releasing so members will be more..so can it be possible 
Producer: Arrey tum hero ho ..anything is possible..Ill arrange it
Kartik: Thank you sir
Kartik comes out and looks at his watch..it is 11 pm
Kartik: Baap re..itna late….I have to get to the hospital 
He calls Naksh
Naksh: Kartik
Kartik: Naksh shall I come to the hospital?
Naksh: Nahi Kartik …We are home now..Manish uncle and papa are in the hospital, you have release tomorrow so get back
Kartik: Naira..how is she? Has she slept?
Naksh: Yeah..she was busy with arrangements for housewarming with Ruhi Keerthi and Aliya but Maa and Ishibua put her to sleep long back
Kartik leaves a sigh of relief and The call disconnects 
Kaira's apartment 
Kartik opens the door slowly and gets inside..as soon as he is inside party poppers burst making him red in surprise.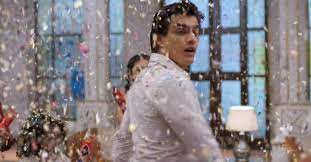 He turns to see everyone except Manish and Naitik there 
Everyone: Congratulations Kartik for your release 
Kartik: Arrey the film hasn't released yet yaar…
Swarna: So what..its an early celebration 
Ruhi: Kartik its your fifth film….5 films is a milestone 
Adi: Correction…one of the many milestones which are waiting for you
Kartik: But..
Naira: What but…tomorrow after the release you will be in great demand..then we cant catch you..let us congratulate you
Kartik is annoyed to see her awake at late hours but doesn't show it as everyone hug him and wish him. 
Naira hugs Kartik
Kartik in a whisper: Why aren't you asleep yet? Is it healthy?
Naira: Nahi Kartik I was asleep only…bhai woke me after you called him. Promise
Kartik: Sab samaj raha hoon mein
Naira blinks
Kartik: Yeh boli mat bano tum..we are not sleeping in the same room as everyone is here and you are taking advantage of it but don't forget that the time for my revenge will come soon
Naira: Oye Mendak zyada uchlo mat 
Kartik: Oye sherni chup chap sojao
Naira: Tum bhi jao..sojao
Kartik gives her a kiss on her forehead
and the scene freezes 
Next Morning- after the first show
Kaira and family walk out of the theatre and reach the podium to watch the audience reaction. 
Dadi: Kittu…if we crowd like this it will not be apt. We will wait inside the office. You and Naira be here. Everyone leave
Kartik: Naira tum bhi jao..dont strain
Naira's eyes fall on his hands as she notices his shaking voice. Kartik fidgets his hands as the crowd starts to come out. Naira notices it and takes his hand in hers
Naira: Tensed ho?
Kartik nods vigorously. Naira smiles
Naira: Kartik…the key scenes got applause and the climax too got good response dont worry
Kartik: Par Naira…
Naira: When I attended the preview though I was angry with you I heard the conversation between you and the director regarding the key scenes..so I know it
Just then the producer rushes there. He hugs Kartik making his heart thump.,once the hug breaks Kartik looks at the producer with expectations 
Producer: Kartik…got calls from the other key centres of Mumbai, all over the state and neighbouring ones and cities like Delhi, Hyderabad, Bangalore and Chennai where our film has released got great response. The collection of our FDFS is immense…it is indeed a blockbuster release. 
Kartik's joy knows no bounds. He thanks the producer and hugs Naira whose eyes shine in happiness. 
Kartik: Naira suna tumne
Naira: Haan Kartik 
Kartik follows his ritual and locks his lips with Naira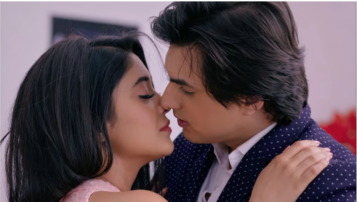 who responds back by parting her lips and allowing him to take over her. Kartik is surprised at her bold gesture as he remembers her getting shy when he kissed her in public during earlier releases. Though crowd of media and audience start to gather around them Kaira aren't shy and share a long smooch which breaks after minutes. Kartik and Naira move apart. The scene freezes with cameras flashing on their faces.
Precap: Simmi calls Raman? Varun has a good news. Whats it?

 
Keep reading to know. 
The post Woh Chaand Toh Mein Hoon – Blockbuster Release (87) appeared first on Telly Updates.